For my last trip of my semester in Europe, I spent two and a half weeks celebrating Christmas and New Years with family in England and exploring Scandinavia by myself! It was an amazing trip and the first time I'd ever traveled in the winter before. Despite the fact that my northernmost stop there was only 6 hours of sunlight a day, I had a great time!
Birmingham, United Kingdom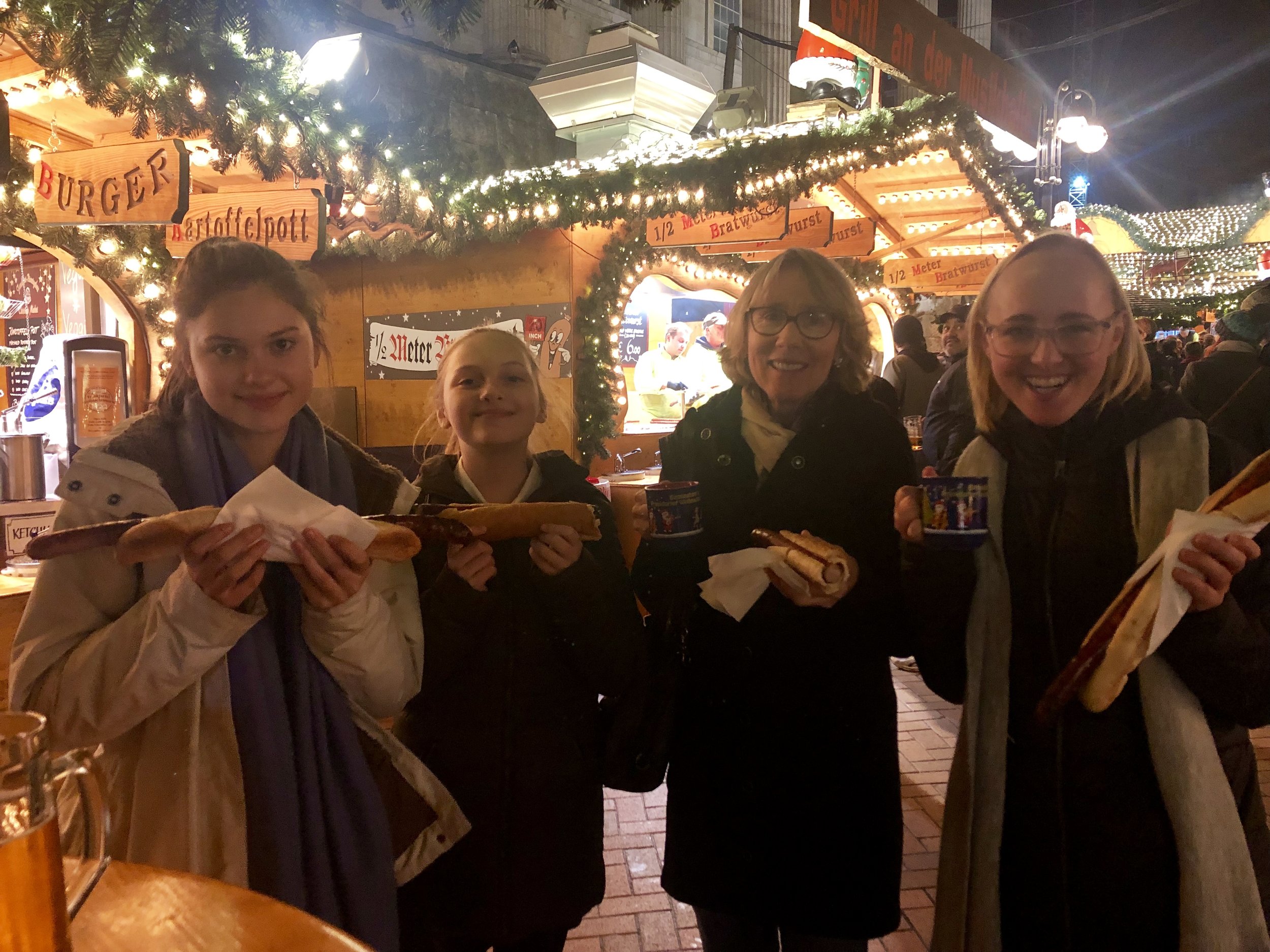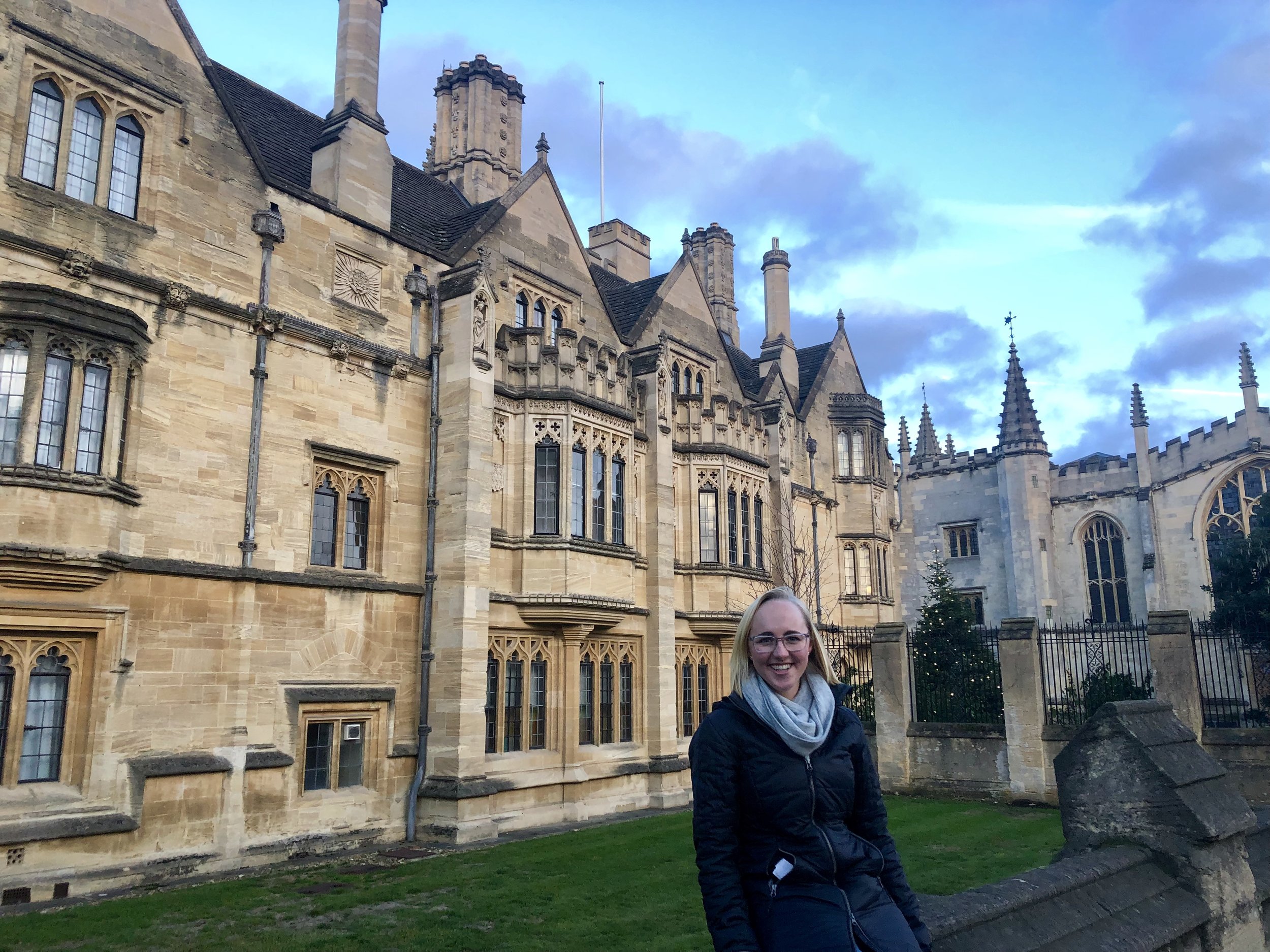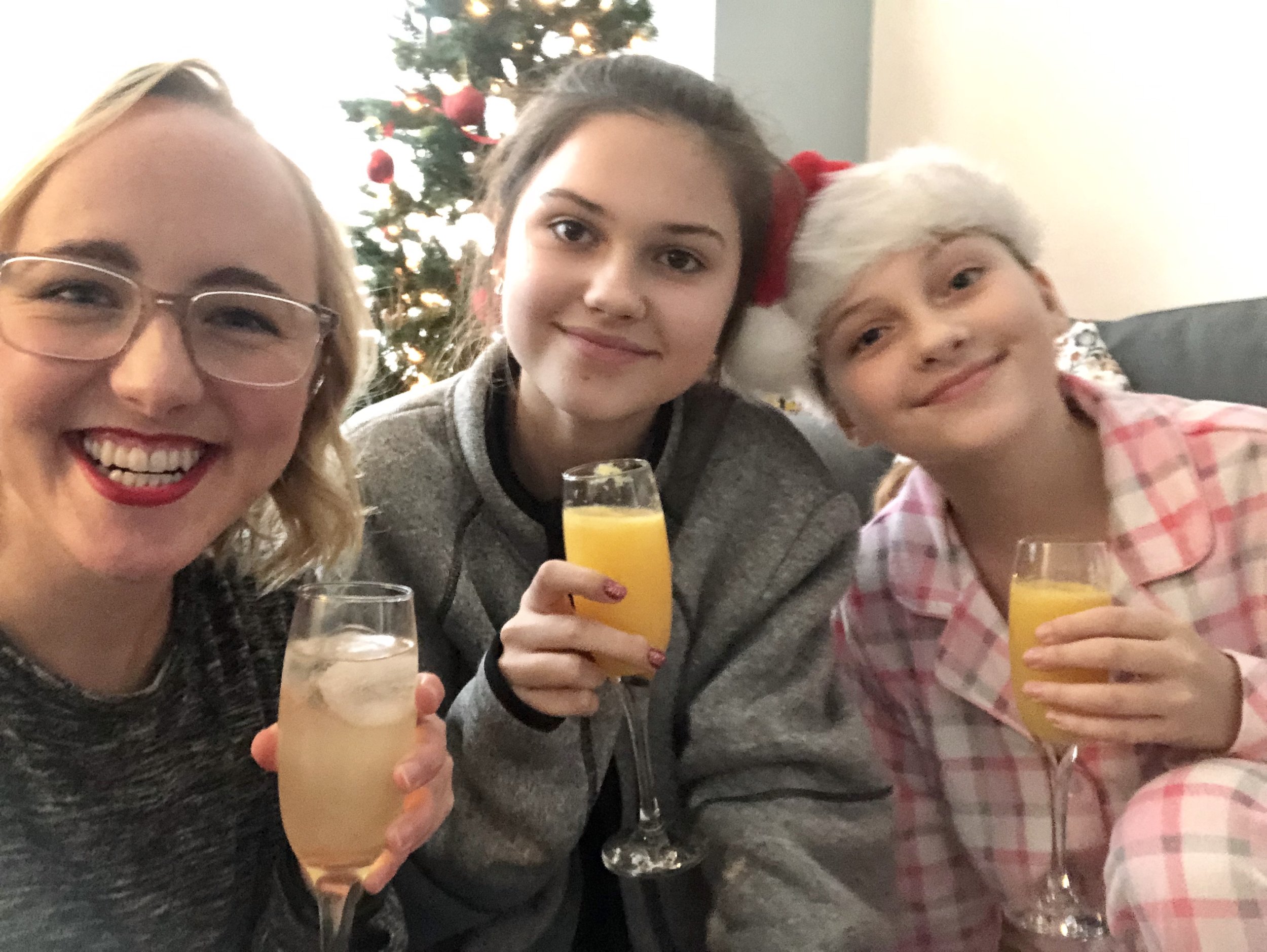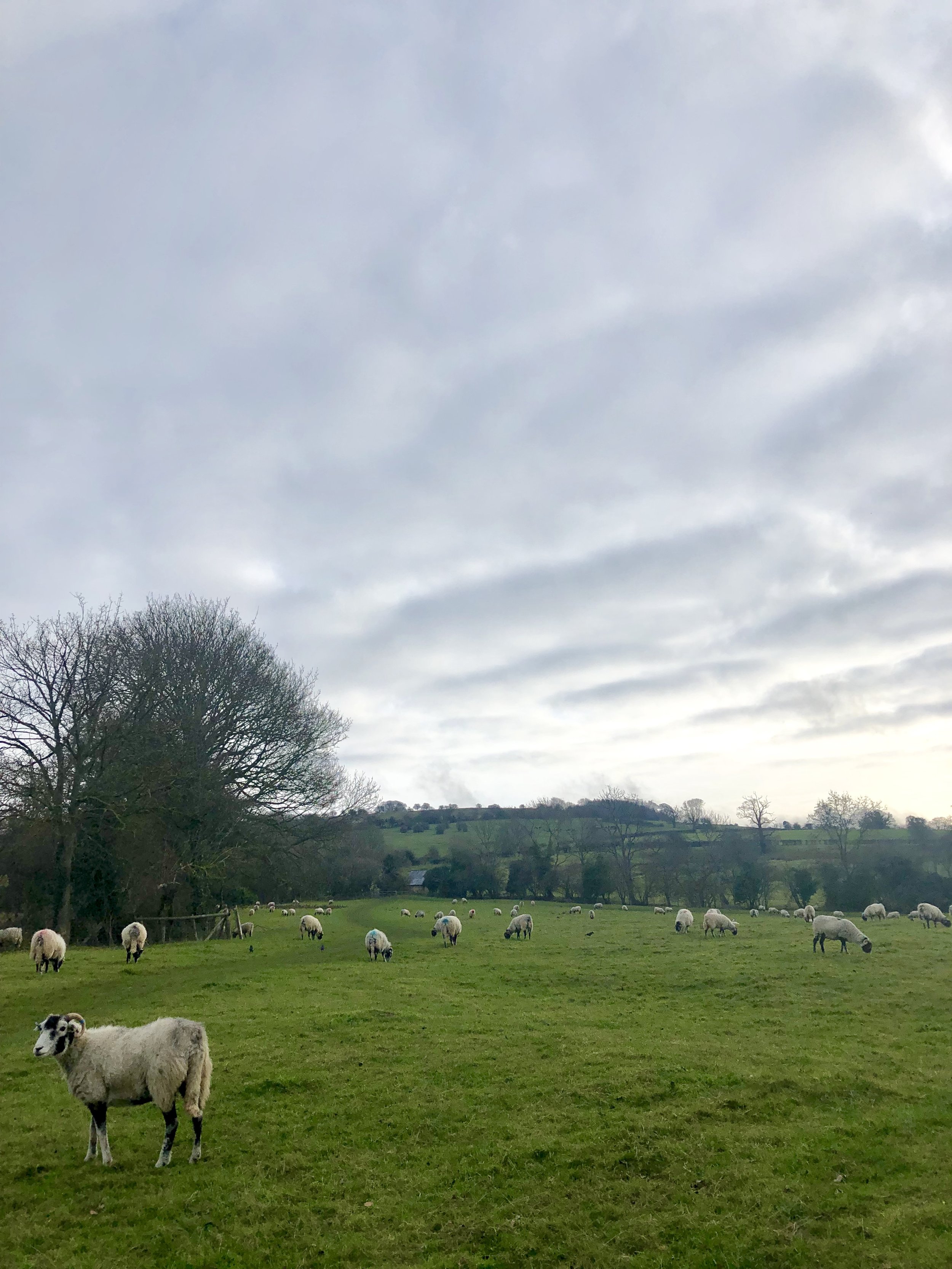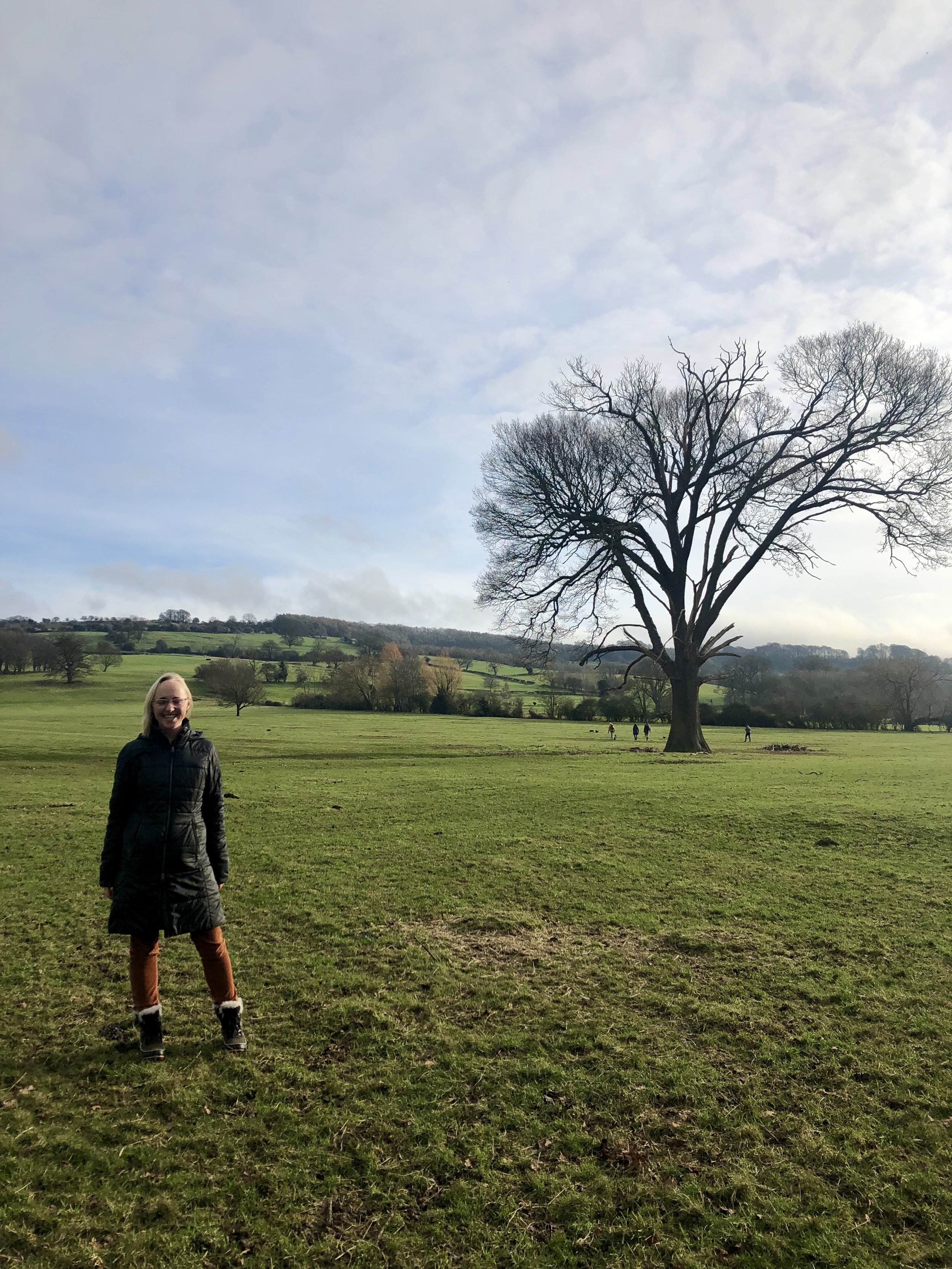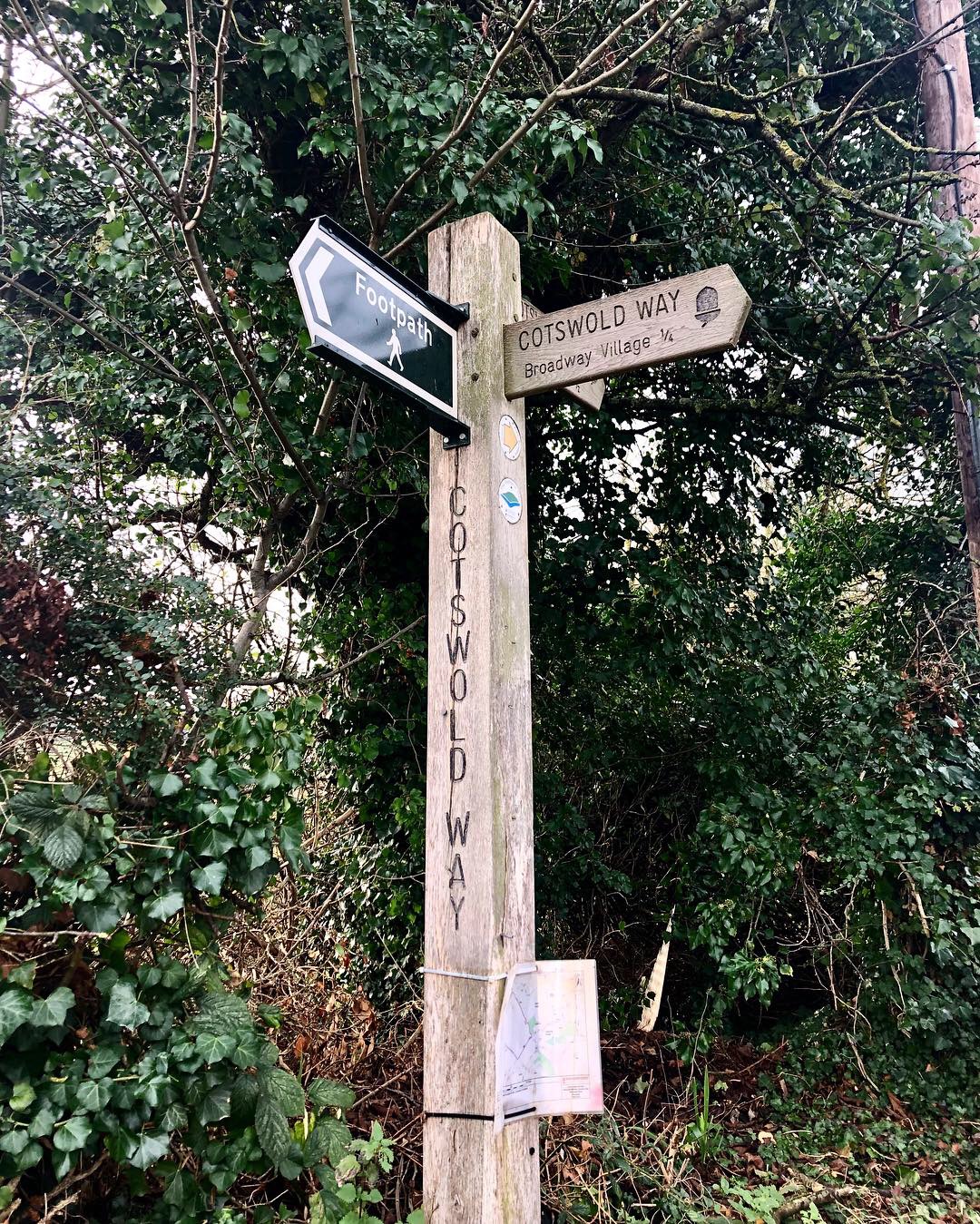 When I first started dreaming of studying in Prague, I hoped I would be able to spend Christmas with my relatives in England. My cousin Rosalee and her family have lived in England for 8 years and I visited them two years ago on my first solo trip to the UK. Rosalee and I are more than 20 years apart, so I'm actually closer in age to her kids! I'm constantly amazed at how special and wonderful family is, because even though we grew up decades and continents apart, we are still connected. She and her husband Sam both have PhDs in Theology, so conversations around their dinner table are so much fun for me. Rosalee's mom, my Aunt Carolyn, was also staying with the Ewell's for Christmas and it was so good to be with her.
While I was in Bimingham, I went on two day trips with Rosalee, Carolyn, and the girls, Isabella and Katherine. We went down to Oxford because my Aunt was preaching at a Brazilian congregation there. I'd never been to Oxford before, but I've read tons of books that are set there and the city did not disappoint. Oxford is one of those towns that is so agressively British it's hard to believe it's actually real. I was absolutely in love, nd not just because we went to the favorite pub of J.R.R. Tolkien and C.S. Lewis.
My week with the Ewell family was filled with good food (my first time having raclette for dinner), holiday traditions, and one million games of bananagrams. On Boxing Day (the day after Christmas in England), none of the trains were running so we made a day trip of getting me down to London and spent the afternoon driving through the picturesque Cotswolds. England might be my very favorite country, even in the chilly midwinter. It was such a wonderful time with the Ewells and I'm so grateful I got to spend Christmas with family.
London, United Kingdom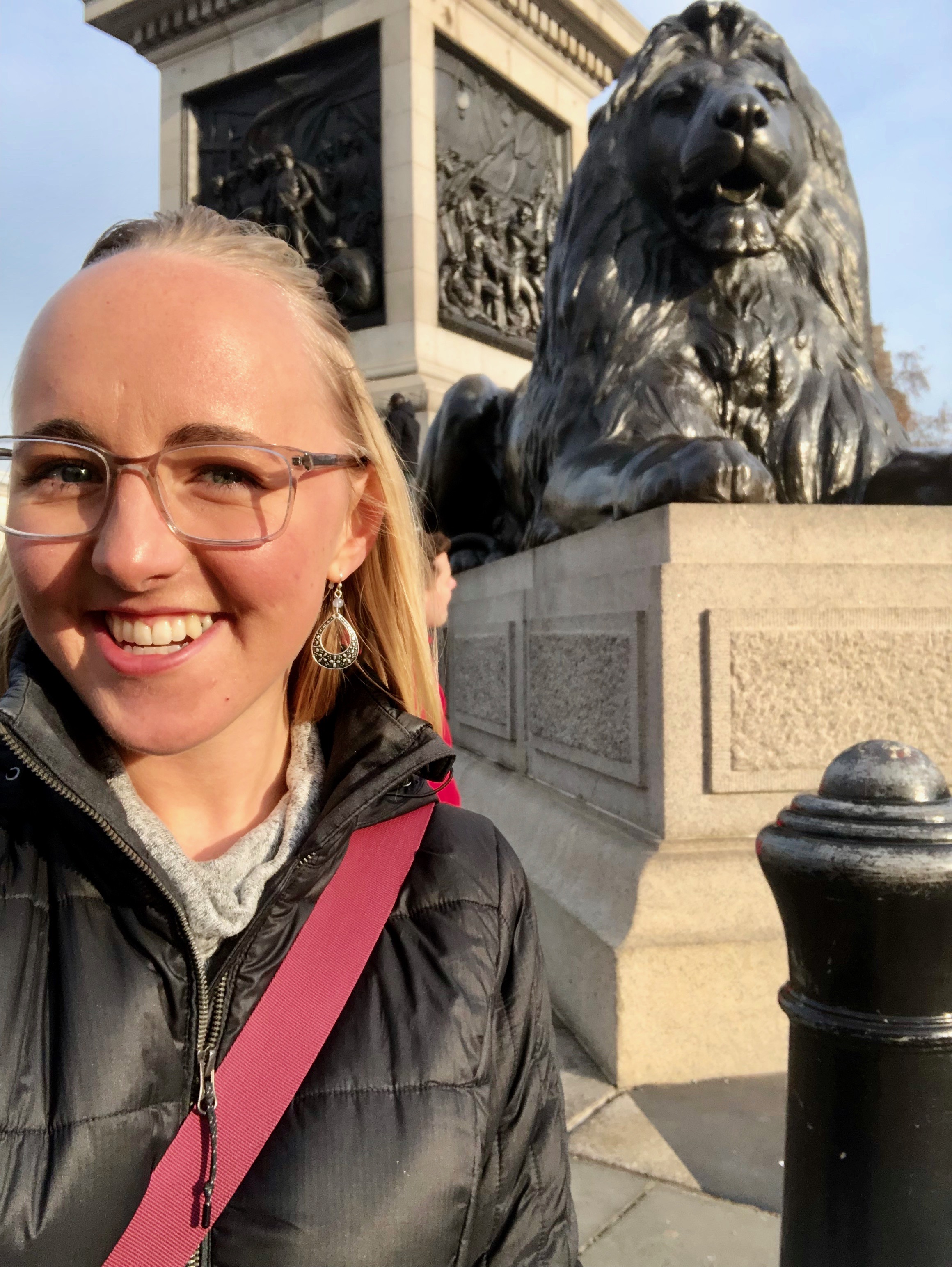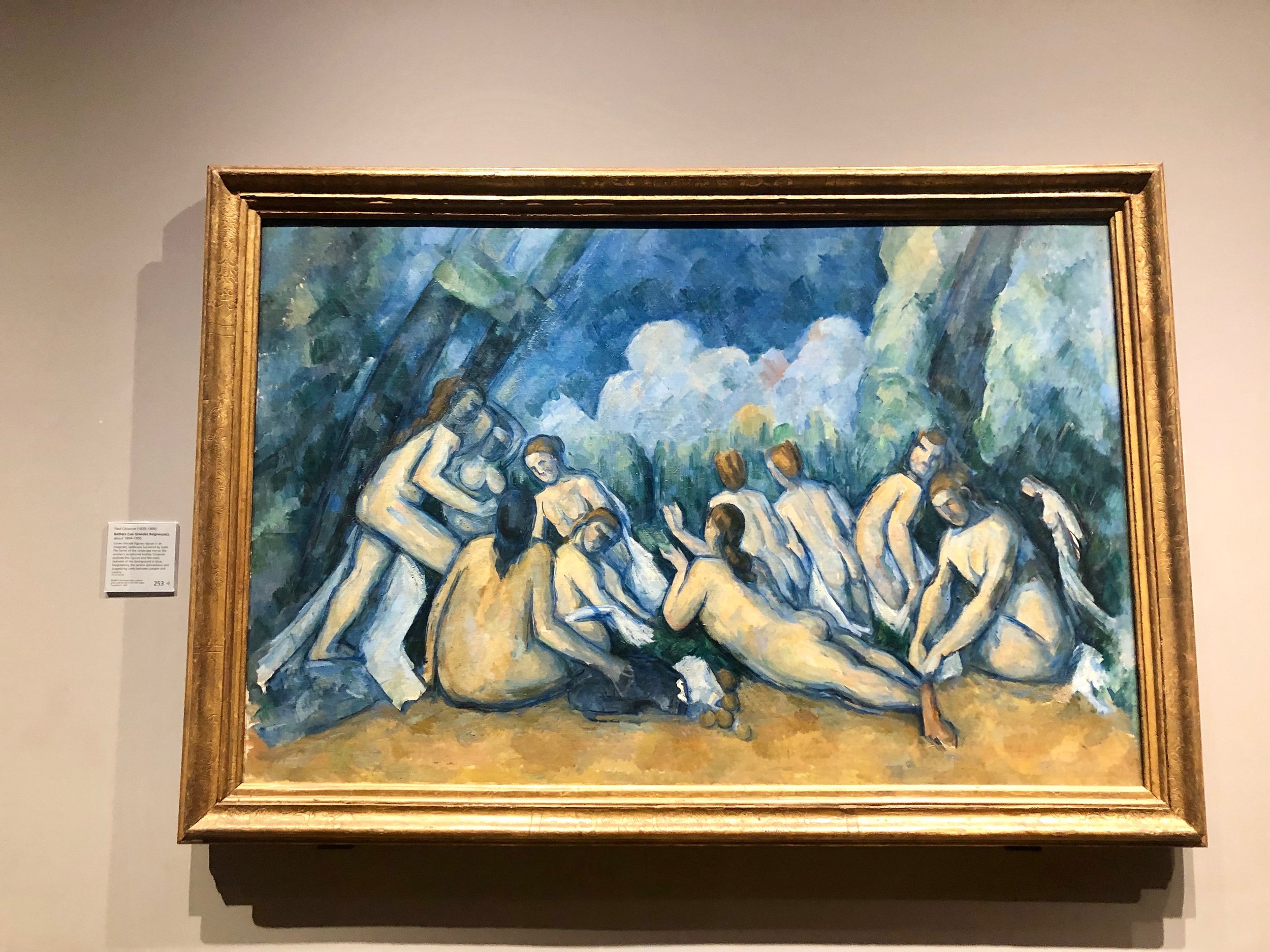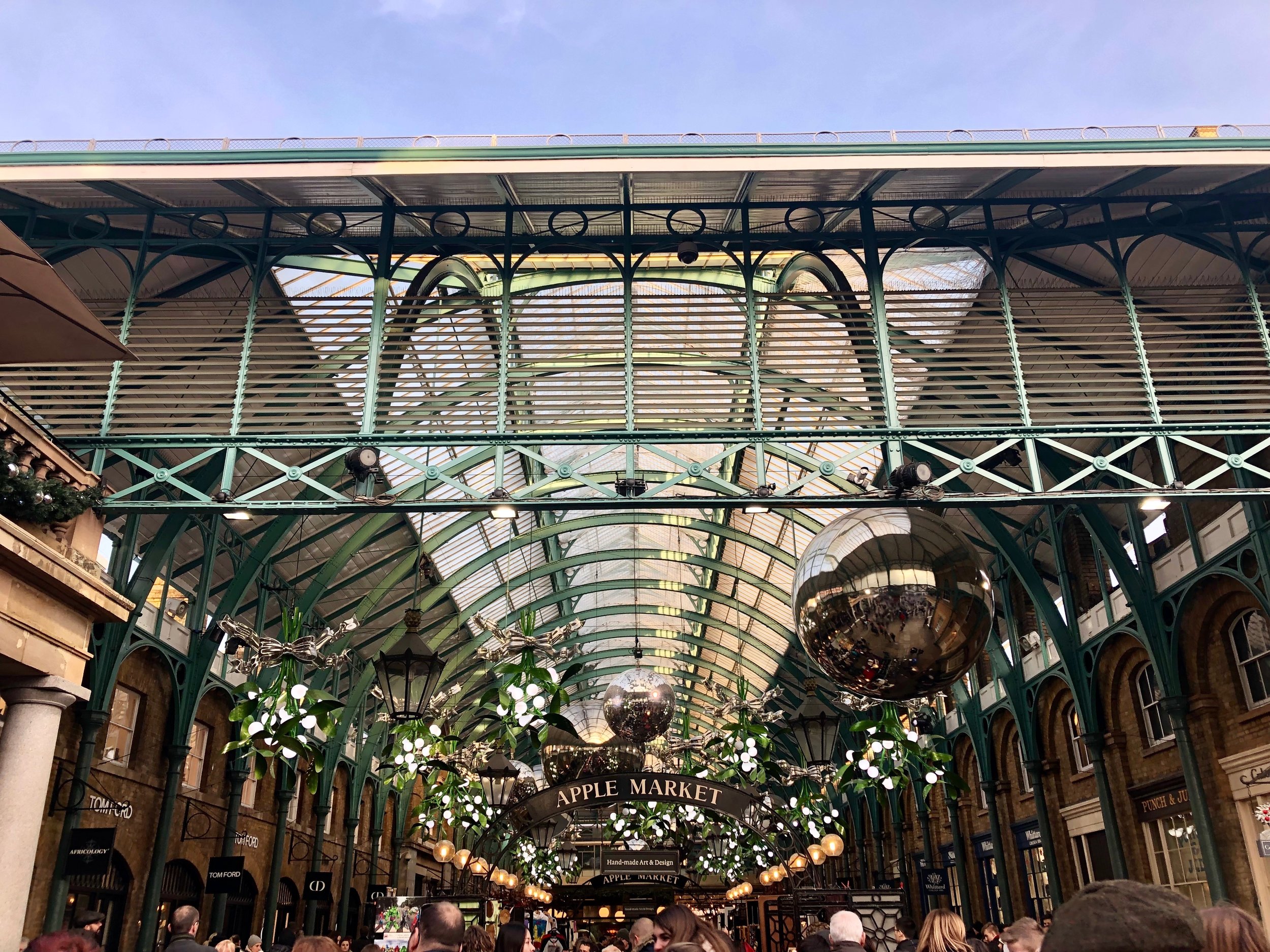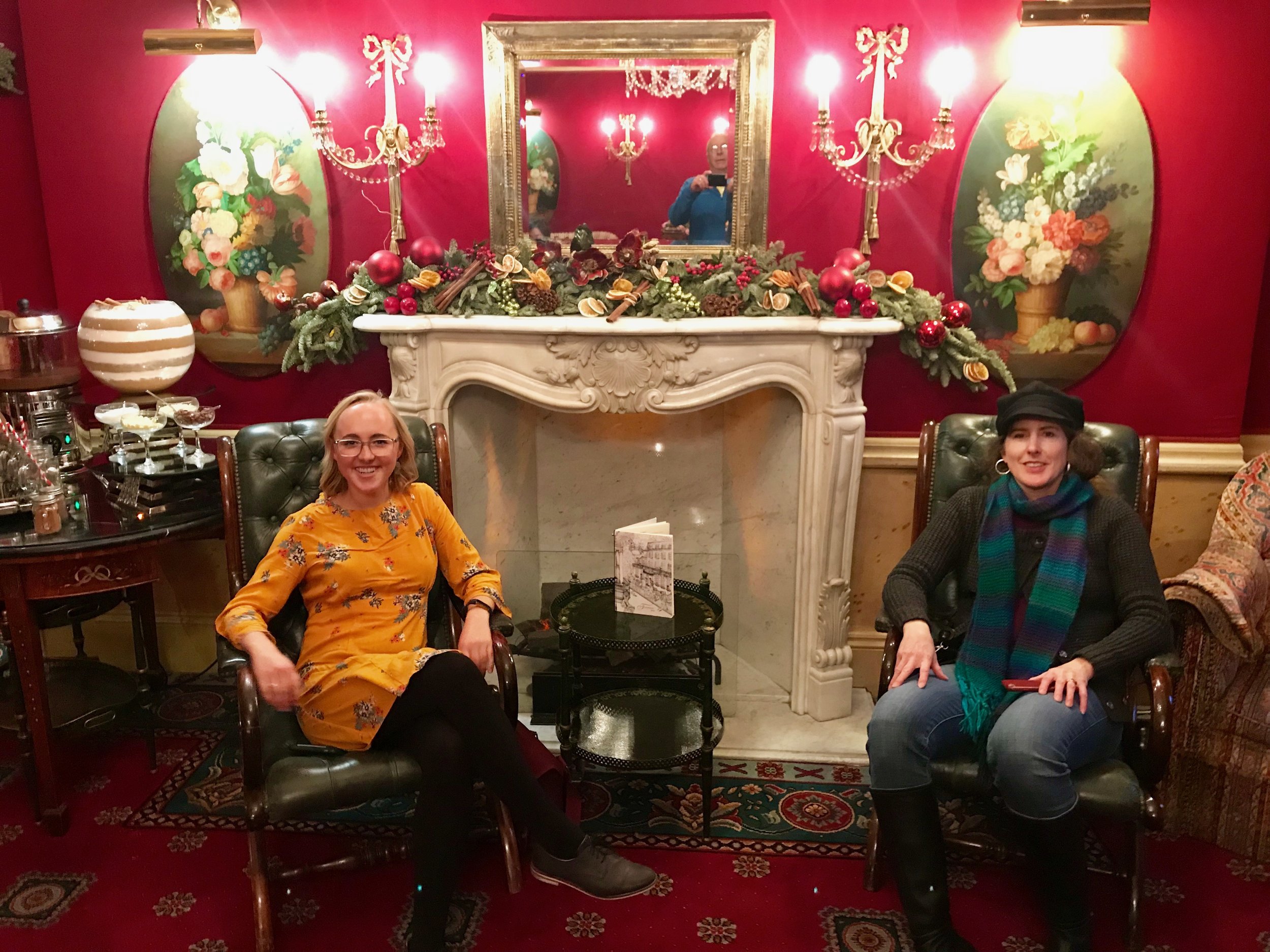 As luck would have it, my relatives from the Nile side of the family were on a big trip to London and Paris for Christmas and we were able to meet up in London for a few days! it was their first time to London, so their first day, they went to some tours and museums while I went out on my own.
This is the first time I've been back to a city more than once as an adult and it was so special. I've done so much traveling but it's always been about going to new places, or places I last went as a teenager with my parents. To be back in London felt like such a special gift. I didn't have to go to all of the tourist hotspots because I've already done them. Instead, I got to pick a few things from my list and really enjoy them. I spent my day alone wandering through the impressionist rooms at the National Gallery, stumbling upon the changing of the guard, and strolling through the Christmas-light-covered streets of Seven Dials.
I stopped for lunch at a pizza restaurant and somehow ended up making friends with a precocious 4 year old girl named Maya. As I was going to leave, her family invited me over to their table for a drink and I gladly accepted. We spent the next two hours laughing, eating, and talking about life, faith, politics, and the insane difficulty of getting a 4 year old into a good school in London! One of my favorite parts of traveling alone is the way that strangers, especially young kids, will end up talking to you. I was always taught not to talk to strangers, but as an adult, I've found these moments to be some of my favorite moments from my travels. We went to Covent Gardens where there are amazing street performers and all sorts of fun shops. I met up with my relatives that evening and the next day we spent the day together at some of the many free museums in London. We went to the Natural History museum and then the massive British Museum, which I had much more conflicted feelings about than the first time I was there 13 years ago. While it's cool to see things like the Rosetta Stone or one of the heads from Easter Island, I'm also reminded that many of these sacred and important objects were blatantly stolen from the people who made them. The whole museum reeks as a monument to colonialism.
In the afternoon, we all had a classic Afternoon High Tea at a beautiful hotel, which was such a fun treat. I've never done the full afternoon tea and it was delicious. I cannot get enough scones and clotted cream, so it was pretty much a dream. It was a fun way to end a short but wonderful time with family!
London has become my favorite city in the world and just writing about it makes me want to go back!
Malmo, Sweden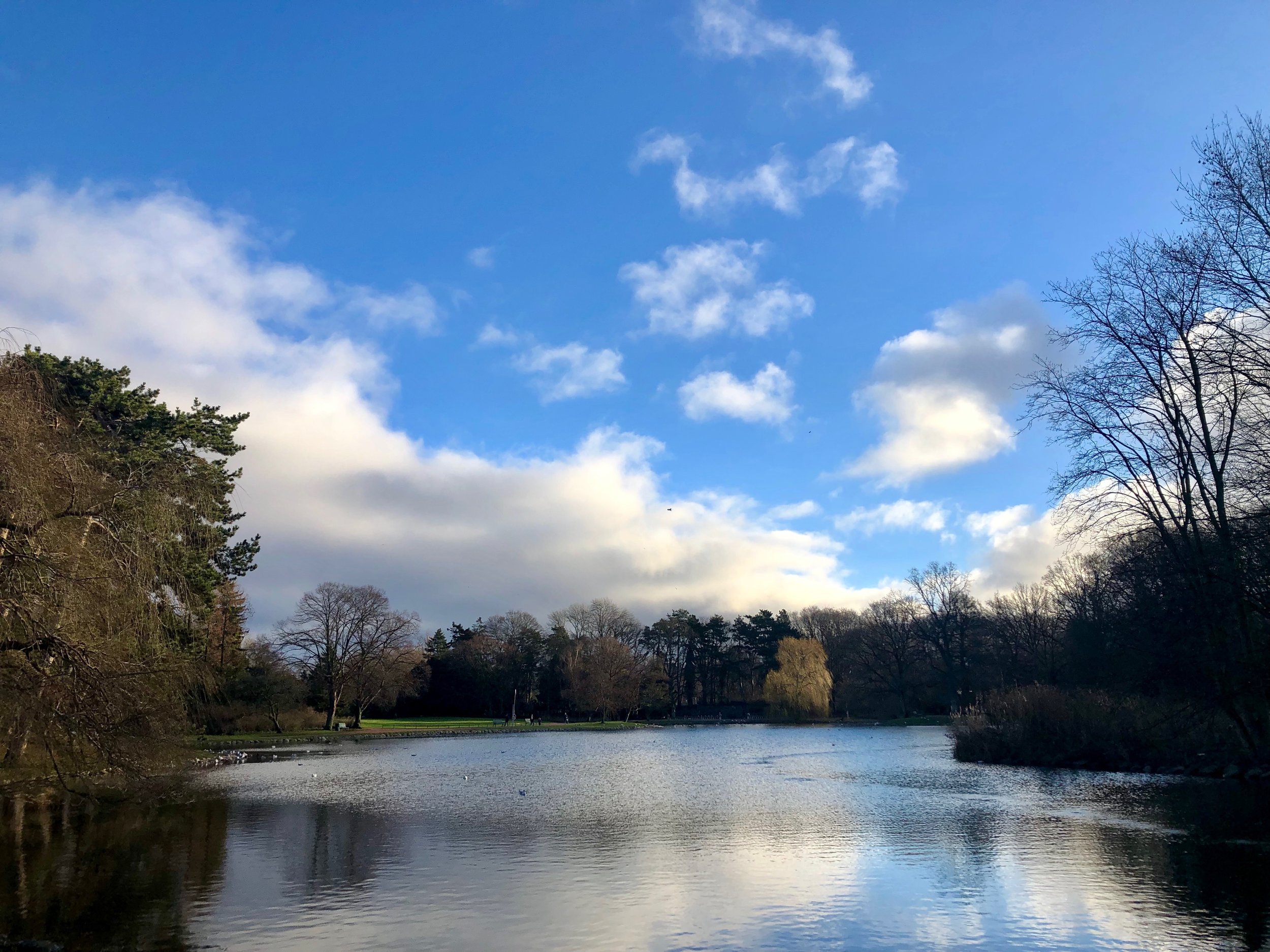 The next day, I flew over to Copenhagen and immediately headed across the bridge to Malmö. I'd never been to Scandinavia before and although my time was brief, it was enough to make me want to come back (in the summer though!). I only spent one full day in Malmö, but it was a beautiful and clear day and I was able to walk around the city, visit a few museums, and get a feel for life in Scandinavia.
Copenhagen, Denmark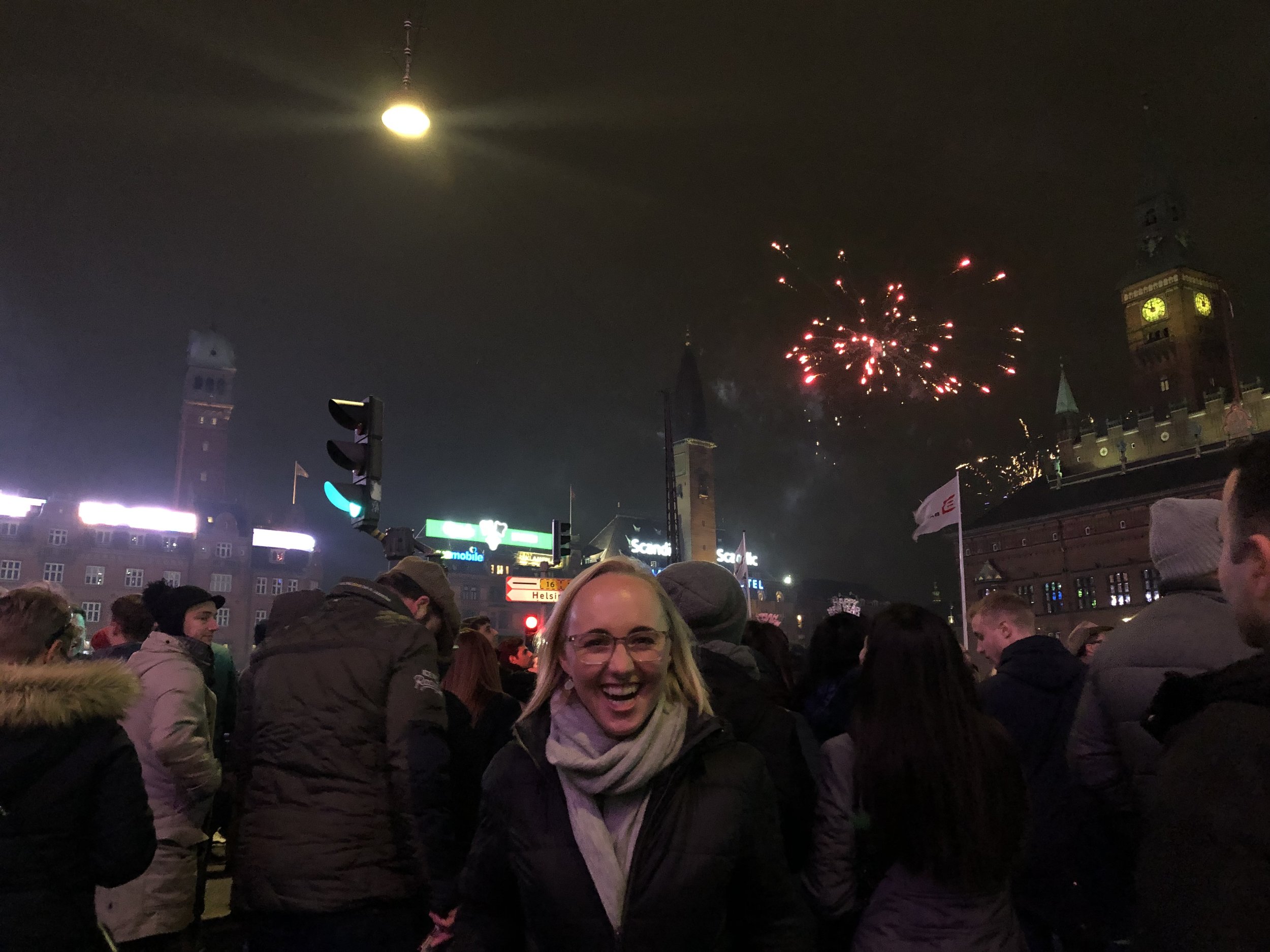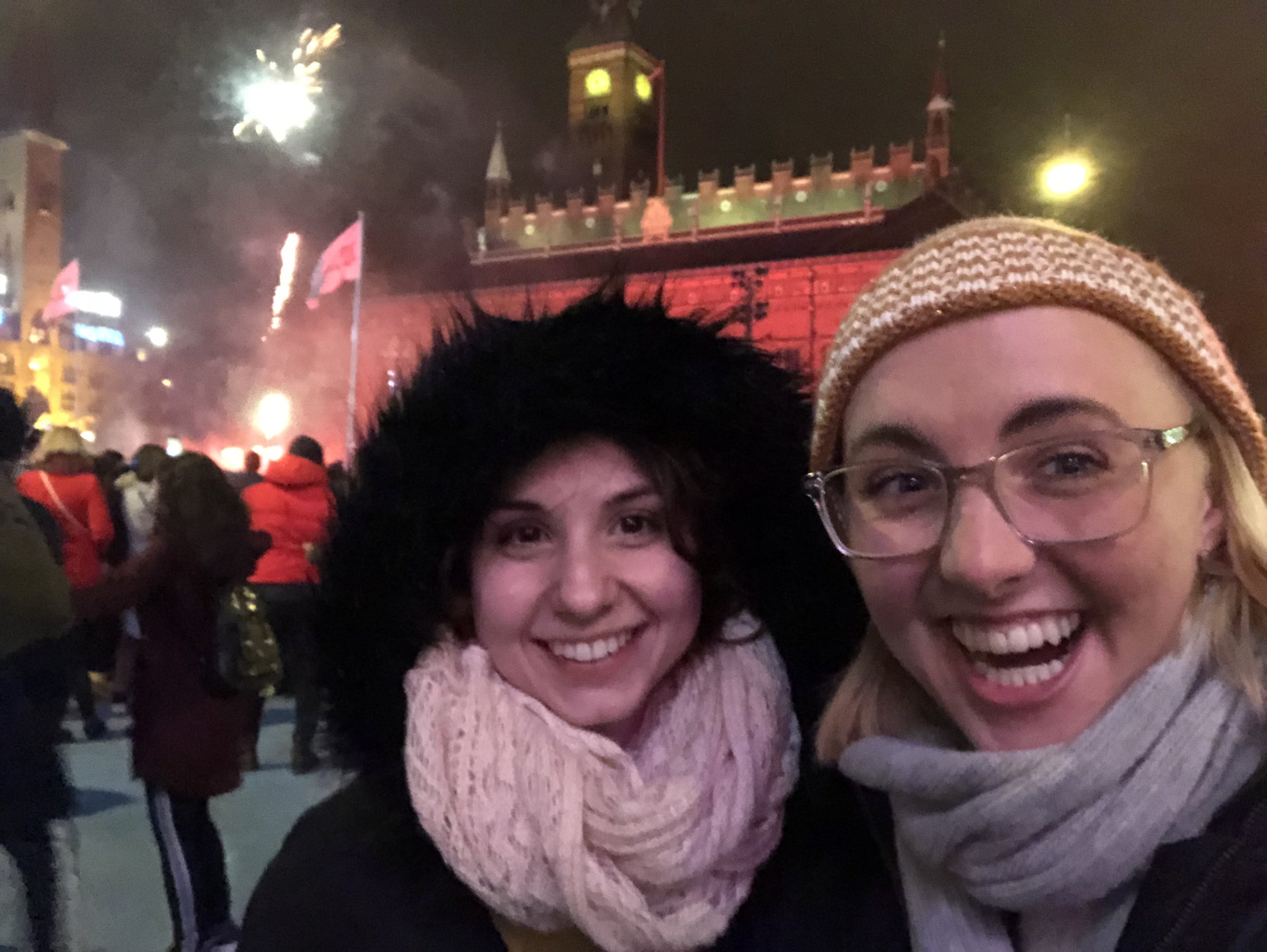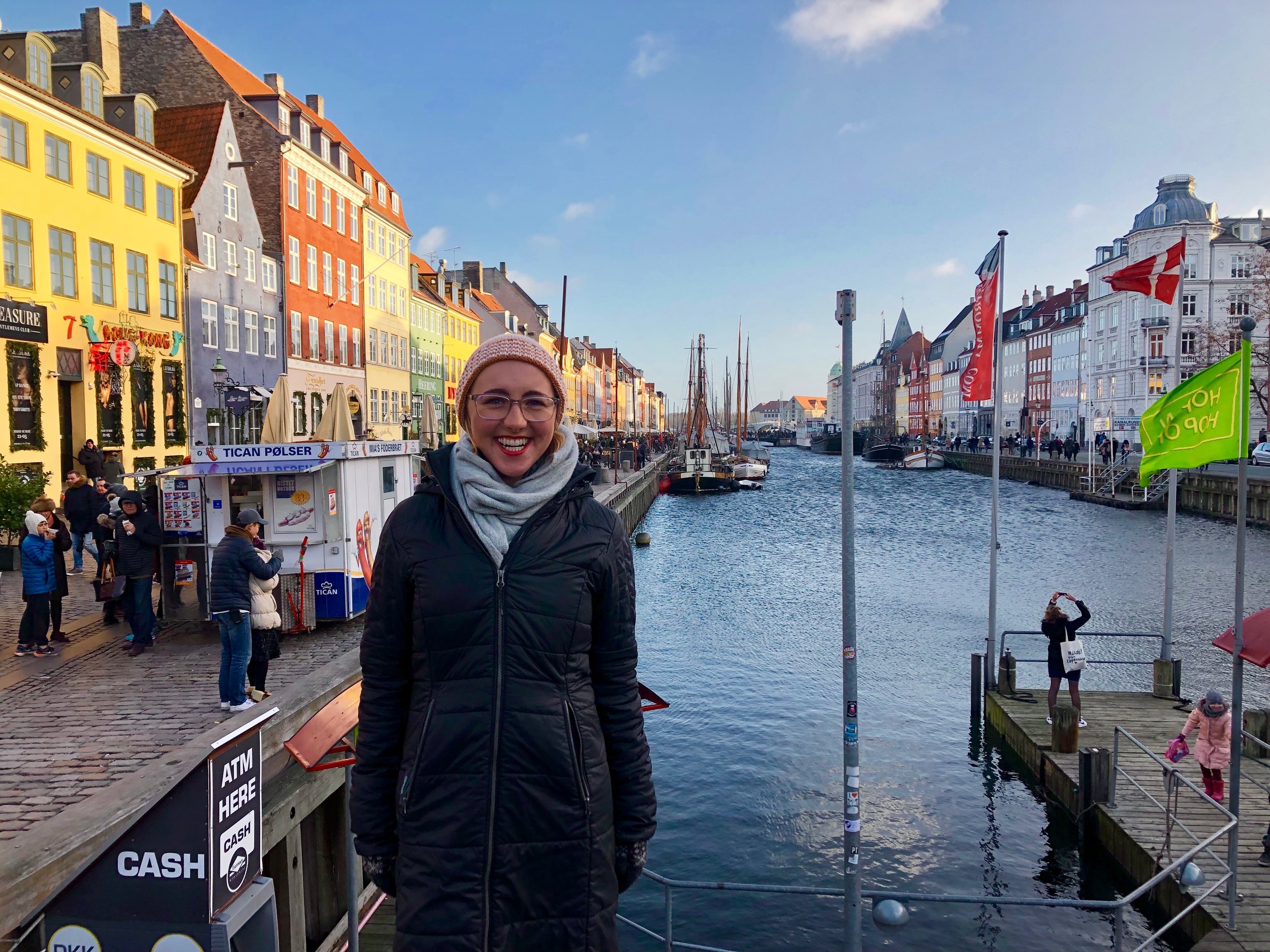 On New Years Eve, I headed into Copenhagen to celebrate the holiday. I figured that if I stayed a hostel, I would meet someone I could spend New Years Eve with, and that's exactly what happened. I met a girl from Italy named Camilla and we spent New Years Eve wandering around the streets of Copenhagen. There aren't any laws restricting fireworks sales in Denmark, so everyone has access to commercial grade fireworks and sets them off anywhere and everywhere. It was absolutely insane. Fireworks were literally going off right over our heads and the view from my hostel window was unbelievable. When I went to bed a 2am, I could still see about 40 fireworks in the air at all times. It sounded a bit like living in a war zone!
On New Years Day, I (stupidly) went on a walking tour of Copenhagen. Unfortunately, that meant standing still outside in below zero (C) temperatures with 27mph winds, so I was freezing by the end of the tour. It was a great tour and I learned a lot about Copenhagen, but I realized that maybe winter isn't my favorite time to travel. That afternoon, I went to the national museum where I learned about the long history of people living in the Baltic sea region. I love a good museum and I certainly had a lot to learn about Danish history!
For Christmas, my parents gave me some money to spend on my trip. I wasn't sure how I was going to spend it until that evening I was very hungry and knew I wanted an excellent meal. I decided to spend some of money on a fancy 3-course meal that I would never otherwise have. It was a great choice and such a fun way to end my time in (expensive, freezing, and beautiful) Copenhagen
Tallinn, Estonia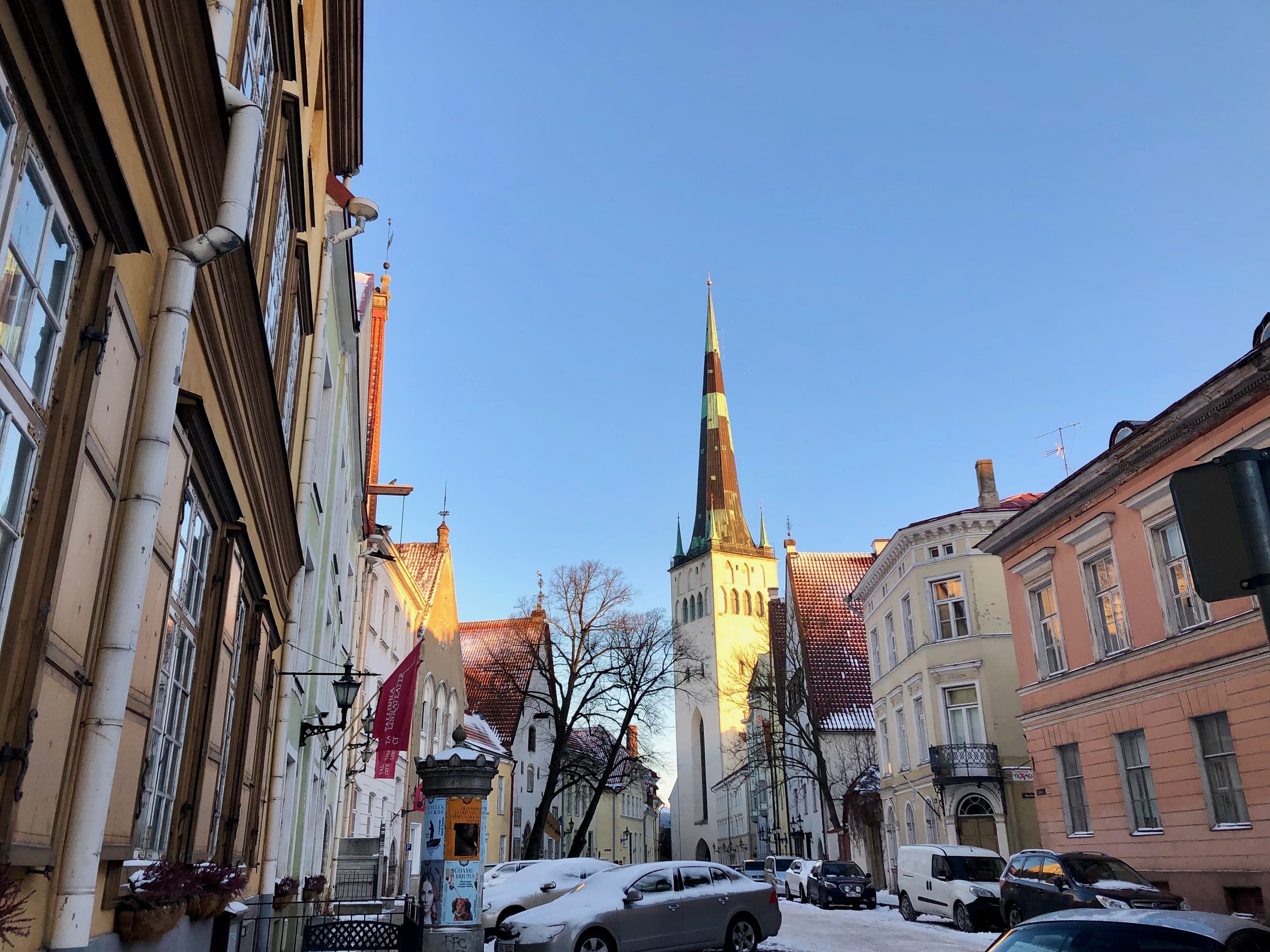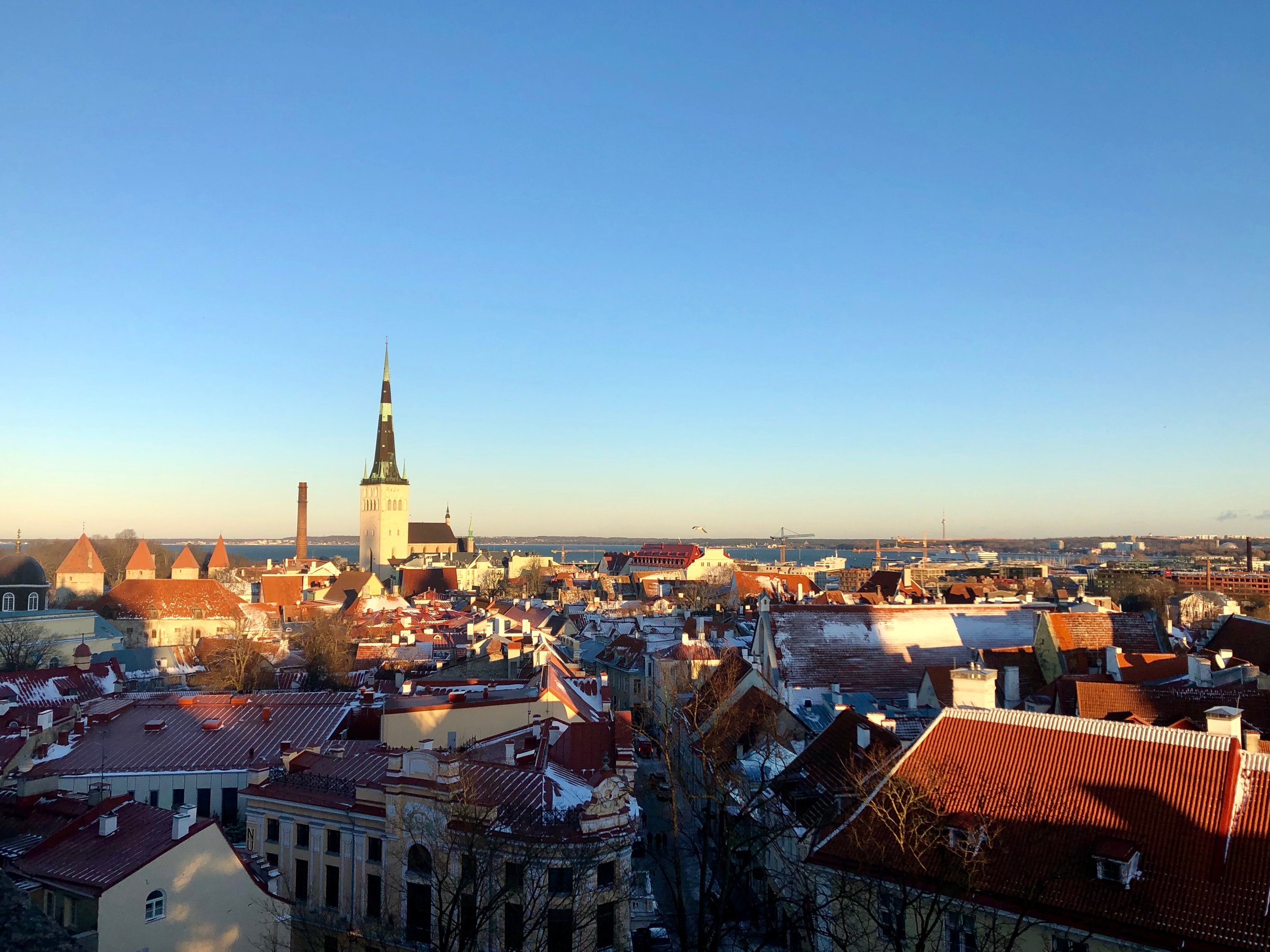 From Copenhagen, I flew to Helsinki, Finland. On my first full day, I took a day trip to Tallinn, Estonia which is across the Baltic Sea from Finland. Since the sun doesn't rise till after 9am, I had time to get a quick shot of the sunrise over the sea before heading into the old town of Tallinn. Unfortunately, it was the coldest day of my trip (with a real feel temperature of -16 C) and it made it pretty hard to enjoy walking around the city. The old town is incredibly charming and quaint, but no amount of fairytale like buildings can make up for a truly freezing cold day. I was able to get an earlier ferry back to Helsinki and I've never been so happy!
Helsinki, Finland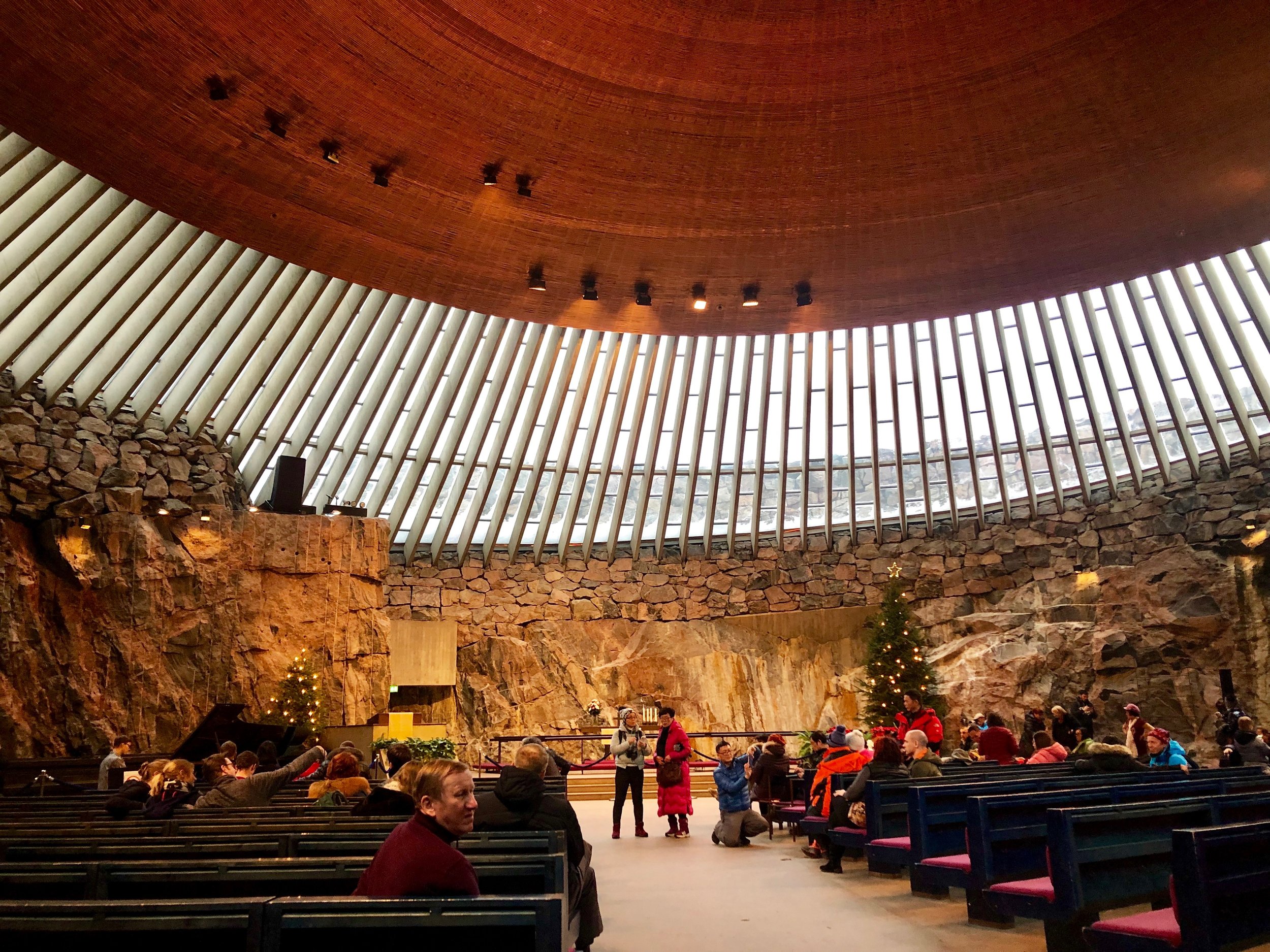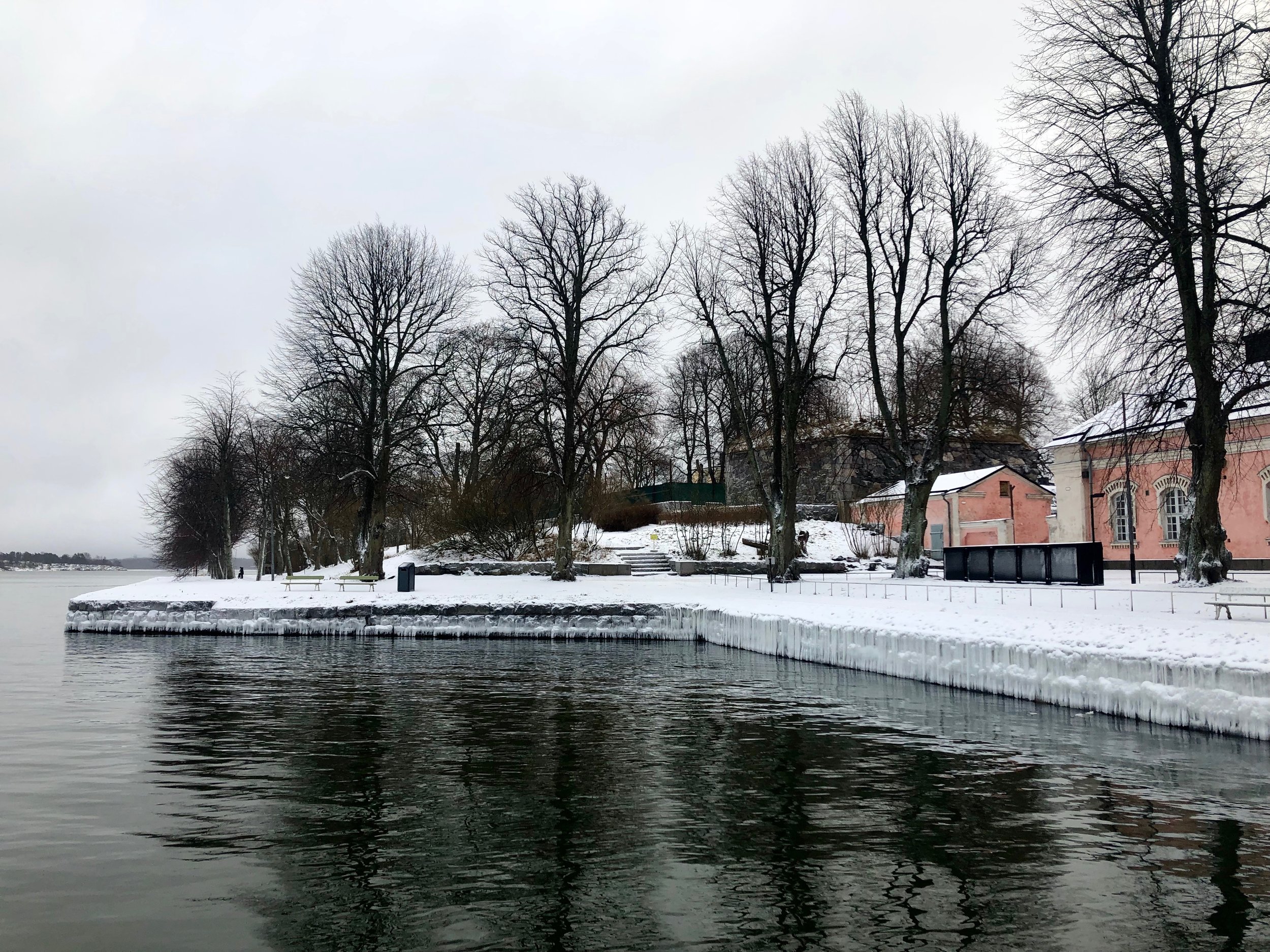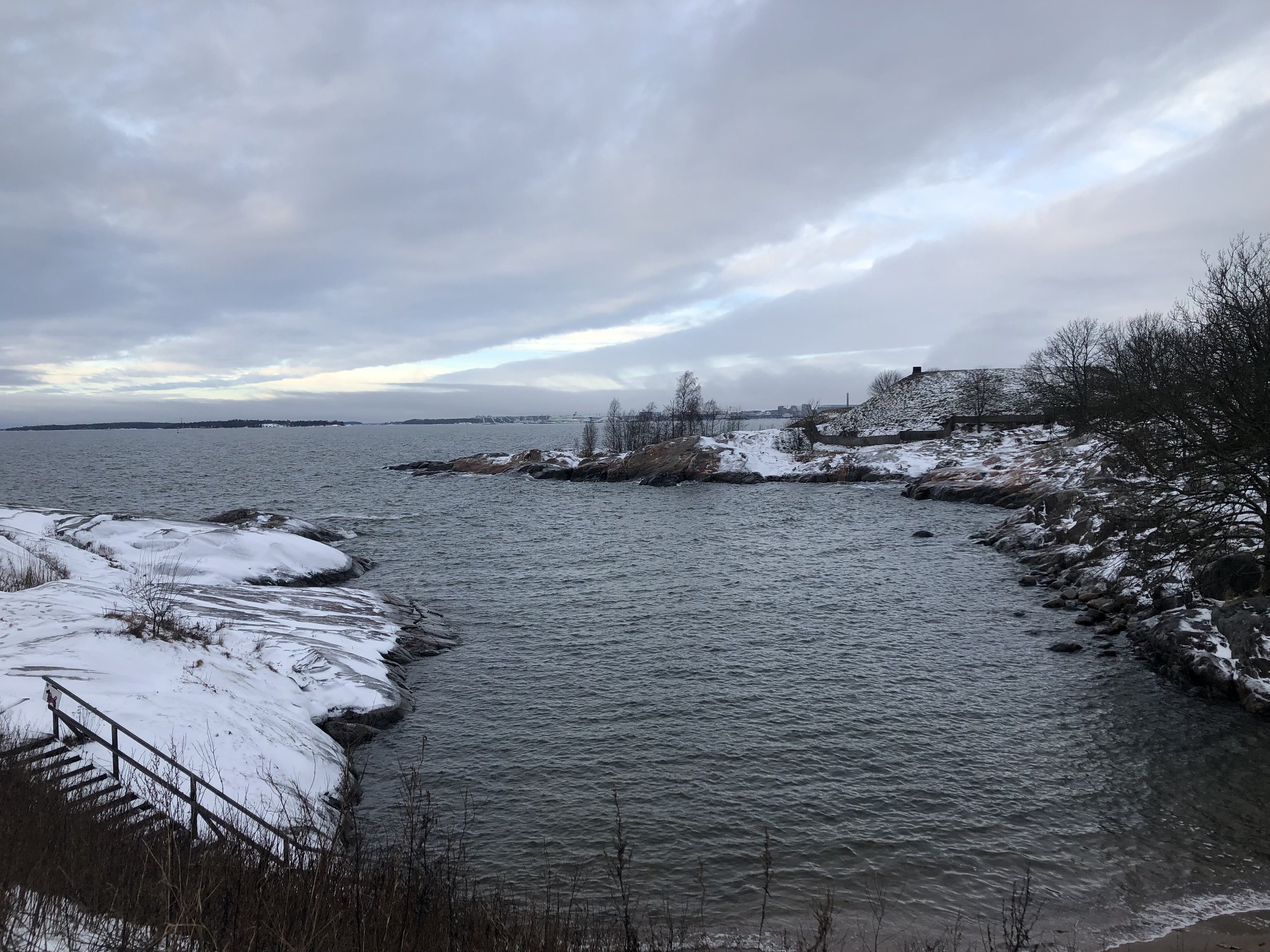 Finland was, without a doubt, my favorite part of the trip. I hadn't even gotten off the plane before I made a friend who gave me a ride to my Airbnb! Helsinki has some unique chapels- including "silence chapel" in the middle of the city and a church dug out of the rock. Churches and libraries are always must-visits for me, no matter what city I'm in, and Helsinki blew me away on both fronts. There is a brand new library in downtown Helsinki that is truly unbelievable. They have recording studios, art workshops, and 3D printers to check out. There are trees growing on the top floor and a great cafe on the ground floor. It's amazing.
I had heard of a cool new art museum but every time I walked by there was a line all the way around the block, even when it was -4 and snowing! I can't imagine anything I would wait 2 hours in that weather for, least of all an art museum, so I never found out if it was worth it.
I spent my few days in Helsinki wandering through the hip and fun downtown area, visiting a small island via ferry, and browsing the adorable (and expensive!) Finnish fashion. I found a great burger restaurant one night and it was so delicious that I went back for my last meal! It seems like a travel faux pa to eat at the same restaurant twice on one trip, but at the end of the trip I didn't have anyone to please but myself and I had no regrets!
On my last morning, I went to a sauna and sea pool on the harbor. I love saunas and there's no better place to do it than Finland! From the sauna, you had to walk outside to the warm pool and the sea pool. It took me a while to work up my courage (because it was already below freezing!) but I finally went and got fully immersed in the Baltic Sea! It was truly freezing. While I was warming up in the warm pool, my towel froze! It was a perfect way to end my time in Finland and it made me want to return in the summertime someday to see more of this beautiful country!